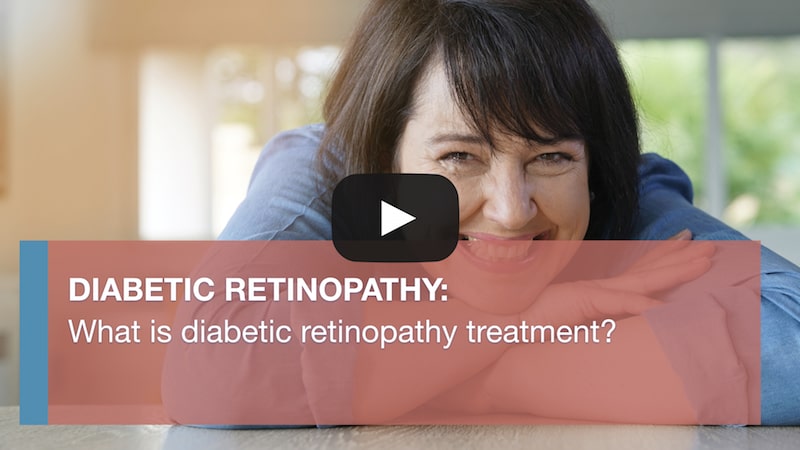 What is diabetic retinopathy treatment?
What is diabetic retinopathy treatment?
Diabetic retinopathy treatment: injections
There are several treatment modalities, and I'll start with injections. We give injections into the eye to resolve what we call oedema, which is swelling at the back of the eye and the retina which has come about from diabetes. The injections can also regress new vessels which cause more bleeding and leaking.
Diabetic retinopathy treatment: photocoagulation
Then there is laser photocoagulation which we implement in two ways. We can employ a macular grid or focal laser photocoagulation which helps to resolve bleeding in the central part of the retina which we call the macula, which is the primary cause of visual distortion and blurring in diabetic maculopathy.
Then also we can employ what we call pan-retinal photocoagulation which is more extensive laser photocoagulation. Pan-retinal photocoagulation is to primarily regress new vessels and destroy new vessels which are prone to causing haemorrhaging and bleeding.
In more advanced cases where patients have what we vitreous haemorrhage where the whole eye fills with blood at the back or where patients have what we call traction detachment, which is a condition because of excessive bleeding and scarring, the retina pulls away from the back of the eye.
Diabetic retinopathy treatment: surgery
Some patients need real surgery in the operating room. There is a procedure called Pars Plana Vitrectomy which means removing all the bleeding from the back of the eye and replacing it with a special fluid. For patients who have a detachment, the retina has to be put back with either silicone oil or gas bubbles which help to tamponade the retina. Sometimes in combination with a vitrectomy and with fixing the retina patients need additional laser treatment, they might even need injections as well.
About the author
Leonard Teye-Botchway
Consultant Ophthalmic Physician and Surgeon |MBChB, FRCS(G), MBA, FWACS, FGCS, DCEH (Lond), Postgraduate Diploma in Cataracts and Refractive Surgery
I am Leonard Teye-Botchway and I am the Medical Director and Consultant Ophthalmologist at Bermuda International Institute of Ophthalmology in Bermuda. The joy and elation I get from seeing patients who are very happy they can see after surgery is almost unimaginable. This is what really drives me to carry on being an ophthalmologist.
We have sourced some or all of the content on this page from The American Academy of Ophthalmology, with permission.