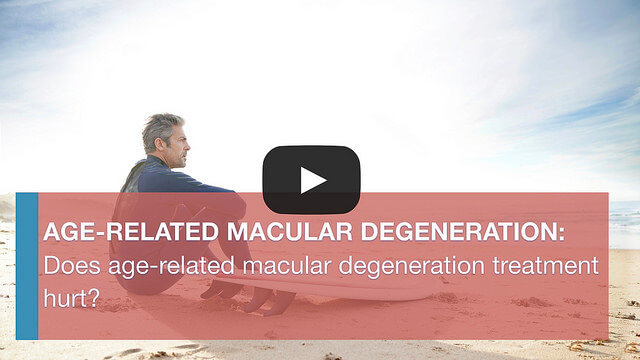 Does Age-related Macular Degeneration treatment hurt?
Does age-related macular degeneration treatment hurt? Most patients are naturally concerned about injections into or around the eye, but I can assure you that if you were to have an intravitreal injection, you'd experience a little discomfort or no discomfort at all.
Firstly, we make sure you're in very comfortable surroundings and talk to you about the different stages of the procedure so that you're aware of what to expect. Then we seat you so that you're reclined very comfortably and put a particular drape over your eye. After that, I numb the eye so that the eye is very nicely frozen, and the lids are open so that if you blink, it won't disturb the procedure.
The needle we use is a fine, sharp needle. Since it's very sharp and small, it penetrates the eye without you even knowing.
The injection takes only a few seconds, and then the needle is withdrawn. Most patients don't even feel anything at all. I can assure you that the treatment will be very comfortable for you.
About the author
Leonard Teye-Botchway
Consultant Ophthalmic Physician and Surgeon |MBChB, FRCS(G), MBA, FWACS, FGCS, DCEH (Lond), Postgraduate Diploma in Cataracts and Refractive Surgery
I am Leonard Teye-Botchway and I am the Medical Director and Consultant Ophthalmologist at Bermuda International Institute of Ophthalmology in Bermuda. The joy and elation I get from seeing patients who are very happy they can see after surgery is almost unimaginable. This is what really drives me to carry on being an ophthalmologist.
We have sourced some or all of the content on this page from The American Academy of Ophthalmology, with permission.