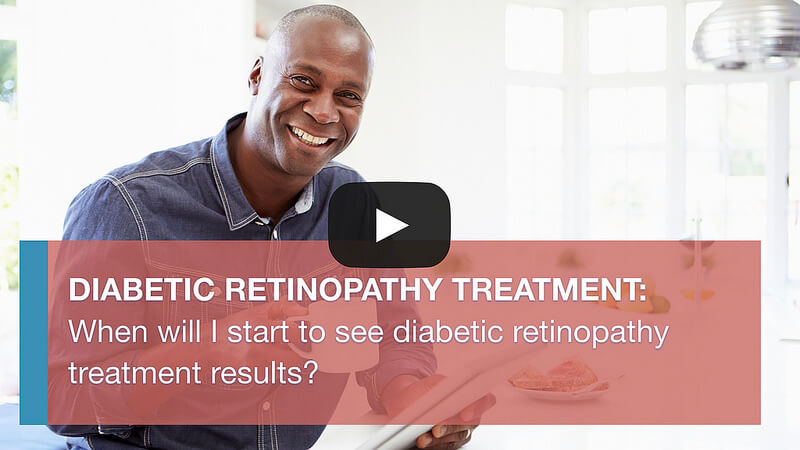 When will I start to see diabetic retinopathy treatment results?
Interview transcription:
We interviewed Dr. Leonard Teye-Botchway to find out about the different diabetic retinopathy treatments and their results. 
Diabetic retinopathy treatment involves injections, laser or actual surgery to remove bleeding that has accumulated in the eye.
Diabetic retinopathy treatment: injections
With regards to injections to reduce oedema, patients usually notice an improvement in their vision in several weeks, which is maintained and may need a repeat injection.
Laser treatment to treat diabetic retinopathy
Regarding laser, the milder type of laser treatment, which we call focal or grid, can lead to vision improvement with several weeks.
Treating diabetic retinopathy with pan-retinal photocoagulation
For pan-retinal photocoagulation, it takes a bit longer for the vision to restore, and in some instances, the vision doesn't improve. What we succeed in doing is to regress new vessels and prevent the eye from bleeding further.
Treating more advanced cases of diabetic retinopathy
Patients with vitreous haemorrhage or retinal detachment need more advanced surgery, which we perform in the hospital. The prognosis for this condition is somewhat guarded; because once the retina is affected, the recovery cannot always be guaranteed.
Nonetheless, it's essential to remove any bleeding in the eye and also to treat the retina if it's detached or if it has new vessels.
About the author
Leonard Teye-Botchway
Consultant Ophthalmic Physician and Surgeon |MBChB, FRCS(G), MBA, FWACS, FGCS, DCEH (Lond), Postgraduate Diploma in Cataracts and Refractive Surgery
I am Leonard Teye-Botchway and I am the Medical Director and Consultant Ophthalmologist at Bermuda International Institute of Ophthalmology in Bermuda. The joy and elation I get from seeing patients who are very happy they can see after surgery is almost unimaginable. This is what really drives me to carry on being an ophthalmologist.
We have sourced some or all of the content on this page from The American Academy of Ophthalmology, with permission.