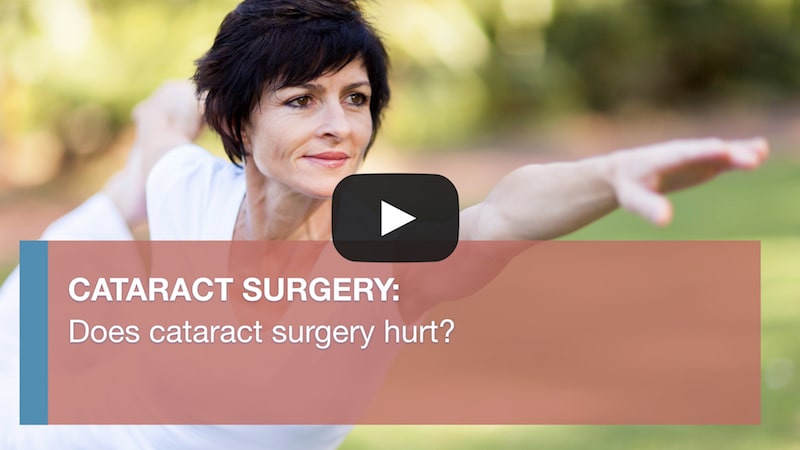 Does cataract surgery hurt?
Does cataract surgery hurt? Cataract surgery doesn't hurt. In the past, we performed surgery for cataracts under general anaesthesia or through techniques called retrobulbar anaesthesia or sub-tenon anaesthesia or peribulbar anaesthesia. But these days, we use what we call topical anaesthesia mostly, which involves numbing the eye with a special gel and drops, which makes patients very comfortable.
Once patients get into the operating area, we administer these drops. By the time that we start the surgery, the eye is very numb. When we place the speculum in, the patients are not aware that there's any discomfort, and when we perform the initial opening into the eye, we inject a bit of anaesthetic in the eye as well. Sometimes, we also have anaesthetic in the drip that we use to flush out the eye. Because of this, it's very comfortable, and patients lie down comfortably with no sensation at all for the entire procedure, and they end up with excellent results.
After surgery, almost invariably, there's no discomfort even when the anaesthesia wears off because of the techniques that we use. Some patients might complain about a little bit of discomfort, and usually, over-the-counter analgesics will eradicate the pain after just one dose.
Very rarely do patients complain of pain after surgery. If they complain of pain, they would need to be seen very urgently to determine whether there's an infection or whether there's another problem. But most of the time, it's a very painless procedure.
About the author
Leonard Teye-Botchway
Consultant Ophthalmic Physician and Surgeon |MBChB, FRCS(G), MBA, FWACS, FGCS, DCEH (Lond), Postgraduate Diploma in Cataracts and Refractive Surgery
I am Leonard Teye-Botchway and I am the Medical Director and Consultant Ophthalmologist at Bermuda International Institute of Ophthalmology in Bermuda. The joy and elation I get from seeing patients who are very happy they can see after surgery is almost unimaginable. This is what really drives me to carry on being an ophthalmologist.
We have sourced some or all of the content on this page from The American Academy of Ophthalmology, with permission.