LEONARD TEYE-BOTCHWAY
Consultant Ophthalmic Physician and Surgeon |MBChB, FRCS(G), MBA, FWACS, FGCS, DCEH (Lond), Postgraduate Diploma in Cataracts and Refractive Surgery
Areas of expertise
Accreditations
General Medical Council, UK
Memberships
Member of American Academy of Ophthalmology

Member of American Society of Cataract & Refractive Surgeons

Member of International Society of Refractive Surgery

Member of Canadian Ophthalmological Society

Member of the Royal College of Ophthalmologists

Member of European Society of Cataract and Refractive Surgeons
About Leonard Teye-Botchway
Consultant Ophthalmic Physician and Surgeon |MBChB, FRCS(G), MBA, FWACS, FGCS, DCEH (Lond), Postgraduate Diploma in Cataracts and Refractive Surgery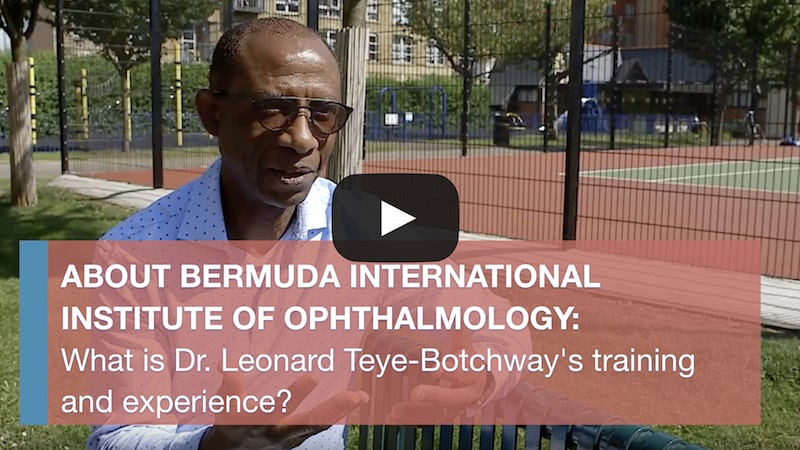 Dr. Leonard Teye-Botchway is the Medical Director and Consultant Ophthalmologist at Bermuda International Eye Institute in Bermuda. He provides cataract surgery using premium intraocular lens implantation, oculoplastic surgery, laser eye surgery for difficulty with near vision, and advanced treatment for conditions including glaucoma, diabetic retinopathy and macular degeneration. The institute also performs a novel, in-office procedure, corneal cross-linking, for patients with keratoconus.
Where Leonard Teye-Botchway practices
Training and experience
While Dr. Teye-Botchway studied medicine he developed a very keen appreciation for wanting to help people. He found that ophthalmology was one area of medicine in which you can make a real difference to people's lives.
Even now, after years of practicing ophthalmology, the joy and elation he gets from seeing patients who are very happy they can see after surgery is almost unimaginable. And that is what really drives him to carry on being an ophthalmologist.
Dr. Leonard Teye-Botchway's training has been very broad. He spent a lot of years in different hospitals in the UK with different specialists learning all aspects of ophthalmology. He felt this was rounding himself in ophthalmology before moving to Bermuda, where he is now practicing at the Bermuda International Eye Institute. He's been in Bermuda for 20 years and for a long period of that time he was the only ophthalmologist on the island.
He's managed to forge very good relationships with some excellent centres in the US and they have been very complementary in collaborative efforts to deliver superb eye care to patients.
At the Bermuda International Eye Institute, they identified the needs of the population in terms of eye care and they have maintained two sites to cater for these needs. We have placed a lot of emphasis also on training staff. Leonard is very proud to say that at The Eye Institute they've produced many firsts in ophthalmology. Including the first certified ophthalmic assistants, the first certified ophthalmic technologist, the first certified ophthalmic medical technologist and the first certified ophthalmic administrator all from the Eye Institute.
Through a comprehensive system of education, they keep up educational knowledge, including his own, with attendance of many international conferences where his knowledge expanded. He's also very happy to say that through the partnership with tertiary centres in the US they were able to offer advanced eye care of the highest order right in Bermuda without the need for patients to travel overseas.
In cases where it's not possible to deliver this management locally, arrangements are made for patients to go overseas for the treatment to be undertaken.
Having said all that he's pleased to say that they really have a comprehensive setup with excellent service, innovative technology and superb staff, dedicated to meet all the eye needs on the island.
First honorary consul for Ghana in Bermuda
Dr. Leonard Teye-Botchway has been appointed the first-ever honorary consul for Ghana in Bermuda.
Dr. Teye-Botchway has lived in Bermuda for over 25 years but is originally from Ghana.
His appointment marks the first time that an honorary consul has been appointed in Bermuda for any African country. He said: "I feel quite honoured and at the same time, humbled and grateful."
Dr Teye-Botchway said there are around 100 Ghanians in Bermuda working in areas including hospitality, accounting and law. His role covers several areas. "The consular aspect of the job will be helping people from Ghana who find themselves in personal difficulties or require services related to consular matters," he said.
Dr Teye-Bothway will also assist Ghanian interests in Bermuda and may represent the country at official events.
Another aspect of the job will be promoting the attractions of his homeland which, he said, is a thriving democracy boasting historic castles and beautiful game reserves.
"Of late there's been an increased interest in visiting Ghana. I'm sure I will be able to help with providing visitors with information about tourist sites and businesses," he explained.
Heralding the appointment which stemmed from a recommendation from previous Governor Sir John Vereker Governor Sir Richard Gozney said: "Like others, I welcome the decision of Ghana to appoint an honorary consul in Bermuda, especially a well respected professional of Dr Teye-Botchway's standing. I believe that there will be some consular business for him, including Ghanaian sailors from ships which are changing crews."
Contact details for the honorary consul will be announced shortly, as soon as an office has been set up.
Latest news from your eye doctor in Bermuda
We regularly share new videos and blog posts for our Bermudian patients about common eye questions and concerns. You can subscribe at the bottom of this page to receive the latest updates.
It depends on the type of injection that's used. The main injection that's used is called Avastin, and there are also other injections called Eylea and Lucentis which are used. Eylea and Lucentis are much more expensive. Generally speaking, the price would range from, say, about $500 to about $3,000 per injection, depending on where the injection is given and which injection is used.
The cost of a premium lens would cost between about $500 and $2,500, depending on the type of lens that is chosen. In addition to fees pertaining to the lens, there are fees that pertain to the actual assessment. In the leadup to the surgery, patients would undergo counselling and several tests, which would incur an office fee which usually ranges from between about $100 to $500. Some patients opt for a premium lens but are unable to pay for the cost of a lens up front, and we have a protocol for assisting patients who have difficulty with paying for the fees up front.
There are two main forms of diabetic retinopathy treatment, which include injections or laser. The injections include steroid injections or drugs like Avastin. The laser treatment involves either focal and grid photocoagulation or pan retinal photocoagulation.
Memberships and Accreditations
CALL TO ASK A QUESTION OR BOOK YOUR ANNUAL EYE CHECK