Nearsightedness
Myopia, or nearsightedness, is a refractive error, which means that the eye does not bend or refract light properly to a single focus to see images clearly. In myopia, close objects look clear but distant objects appear blurred. Myopia is a common condition that affects an estimated 25 percent of Americans. It is an eye focusing disorder, not an eye disease.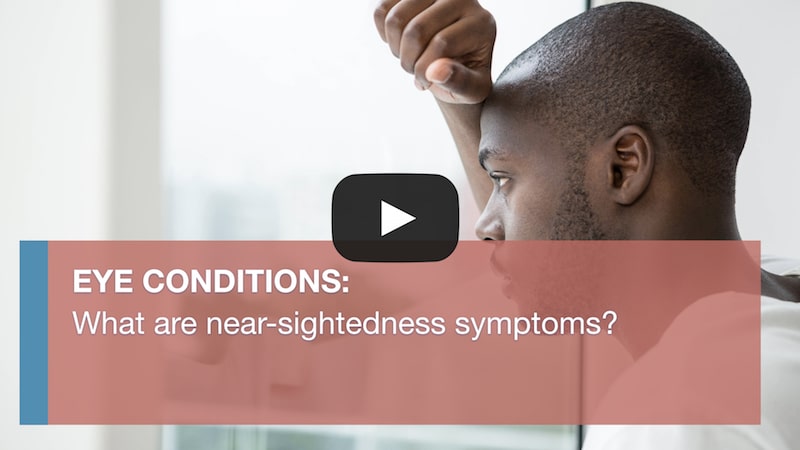 What causes nearsightedness?
Runs in families and usually appears in childhood.
In order for our eyes to be able to see, light rays must be bent or refracted by the tear film, the cornea and the lens so they can focus on the retina, the layer of light-sensitive cells lining the back of the eye. The retina receives the picture formed by these light rays and sends the image to the brain through the optic nerve, which is actually part of the brain.
Myopia occurs when the eye is longer than normal or has a cornea (clear front window of the eye) that is too steep. As a result, light rays focus in front of the retina instead of on it. This allows you to see near objects clearly, but distant objects will appear blurred.
Some of the signs and symptoms of myopia include eyestrain, headaches, squinting to see properly and difficulty seeing objects far away, such as road signs or a blackboard at school.
Myopia symptoms may be apparent in children when they are between ages eight and 12 years old. During the teenage years, when the body grows rapidly, myopia may become worse. Between the ages of 20 and 40, there is usually little change.
At a glance
TREATMENT OPTIONS
YOUR SPECIALIST
Nearsightedness examination in Bermuda
Standard Eye examination performed.
Visual acuity testing
Your eye doctor can diagnose myopia as part of a comprehensive eye examination. He or she will determine if you have myopia by using a standard vision test, where you are asked to read letters on a chart placed at the other end of the room.
If the vision test shows that you are nearsighted, your doctor will use certain examination devices to learn what is causing the myopia. By shining a special light into your eyes, a retinoscope will be used to see how light reflects off your retina. As the light is reflected back from inside the eye, it can indicate whether a person is nearsighted or farsighted.
Your doctor will also use a phoropter, an instrument that the measures the amount of refractive error you have and helps determine the proper prescription to correct it.
Nearsightedness treatment in Bermuda
Eyeglasses or contact lenses are the most common methods of correcting myopia symptoms. They work by refocusing light rays on the retina, compensating for the shape of your eye. Eyeglasses can also help protect your eyes from harmful ultraviolet (UV) light rays. A special lens coating that screens out UV light is available.
In many cases, people may choose to correct myopia with LASIK or another similar form of refractive surgery. These surgical procedures are used to correct or improve your vision by reshaping the cornea, or front surface of your eye, effectively adjusting your eye's focusing ability.
You may have heard of a process called orthokeratology to treat myopia. It uses a series of hard contact lenses to gradually flatten the cornea and reduce the refractive error. Improvement of sight from orthokeratology is temporary. After use of the lenses is discontinued, the cornea goes back to its original shape, and myopia returns. There is no scientific evidence to suggest that eye exercises, vitamins or pills can prevent or cure myopia.
Latest news from your eye doctor in Bermuda
We regularly share new videos and blog posts for our Bermudian patients about common eye questions and concerns. You can subscribe at the bottom of this page to receive the latest updates.
Age-related Macular Degeneration treatment is quite comfortable for most patients. We ensure that patients are as comfortable as possible before beginning.
The glaucoma treatment cost depends on the type of glaucoma the patient has. It also depends on their insurance coverage.
Because of the anaesthetic eye drops we administer before and during a cataract operation, the treatment does not hurt. Most patients are very comfortable during the procedure.
Memberships and Accreditations
About the author
Leonard Teye-Botchway
Consultant Ophthalmic Physician and Surgeon |MBChB, FRCS(G), MBA, FWACS, FGCS, DCEH (Lond), Postgraduate Diploma in Cataracts and Refractive Surgery
I am Leonard Teye-Botchway and I am the Medical Director and Consultant Ophthalmologist at Bermuda International Institute of Ophthalmology in Bermuda. The joy and elation I get from seeing patients who are very happy they can see after surgery is almost unimaginable. This is what really drives me to carry on being an ophthalmologist.
We have sourced some or all of the content on this page from The American Academy of Ophthalmology, with permission.
CALL TO ASK A QUESTION OR BOOK YOUR ANNUAL EYE CHECK