Glaucoma
Glaucoma is a disorder associated with pressure in the eye. Glaucoma is characterised by damage to the optic nerve, with a consequent visual loss, initially peripheral, but potentially blinding if relentlessly progressive. The disorder we refer to as glaucoma is not a single disease, but rather a myriad of conditions with one final common insult, injury to the optic nerve.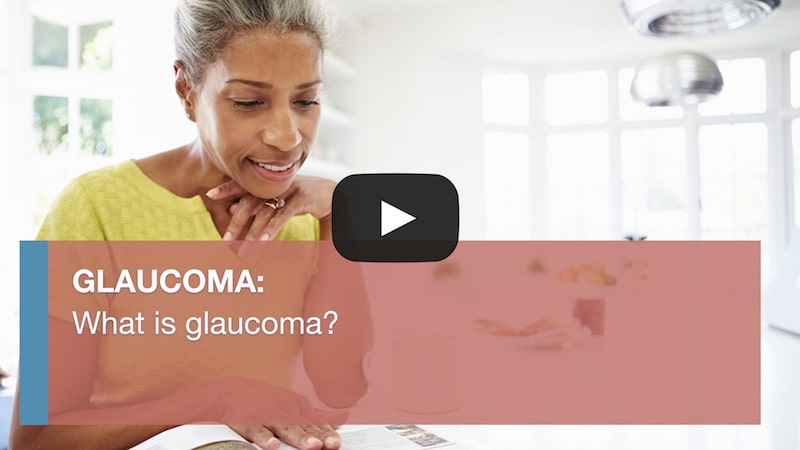 Glaucoma symptoms and lifestyle impacts
Open-angle glaucoma
With open-angle glaucoma, there are no warning signs or apparent symptoms in the early stages. As the disease progresses, blind spots develop in your peripheral (side) vision.
Most people with open-angle glaucoma do not notice any change in their vision until the damage is quite severe. This is why glaucoma is called the "silent thief of sight." Having regular eye exams can help your ophthalmologist find this disease before you lose vision. Your ophthalmologist can tell you how often you should be examined.
Angle-closure glaucoma
People at risk for angle-closure glaucoma usually show no symptoms before an attack. Some early symptoms of an attack may include blurred vision, halos, mild headaches or eye pain. People with these symptoms should be checked by their ophthalmologist as soon as possible. An attack of angle-closure glaucoma includes the following:
Severe pain in the eye or forehead
Redness of the eye
Decreased vision or blurred vision
Seeing rainbows or halos
A headache
Nausea
Vomiting
Normal tension glaucoma
People with "normal tension glaucoma" have eye pressure that is within normal ranges, but shows signs of glaucoma, such as blind spots in their field of vision and optic nerve damage.
Glaucoma suspects
Some people have no signs of damage but have higher than normal eye pressure (called ocular hypertension). These patients are considered "glaucoma suspects" and have a higher risk of eventually developing glaucoma. They should be carefully monitored by an ophthalmologist.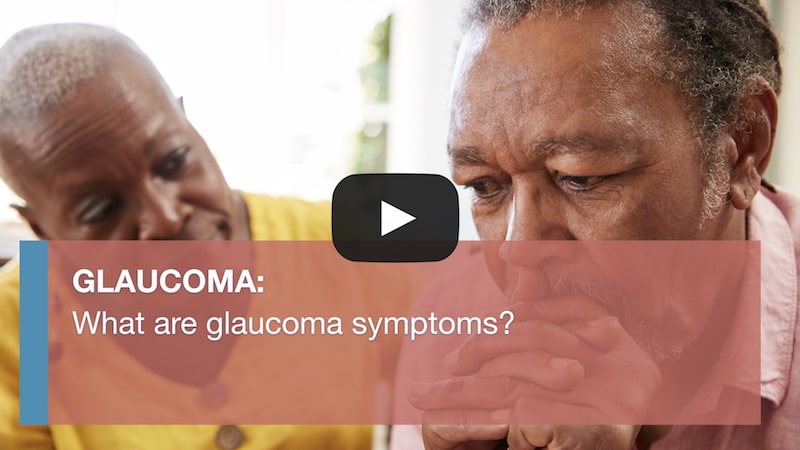 At a glance
TREATMENT OPTIONS
YOUR SPECIALIST
What are the glaucoma causes?
There are different types of Glaucoma. There is primary; this means that the cause is unknown. Then there is secondary glaucoma, the causes of which are tumor, diabetic, cataract or even inflammation. Both types have risk factors. Risk factors such as Age, Eye injury, diabetes, Eye Surgery.
Your eye constantly makes aqueous humor. As new aqueous flows into your eye, the same amount should drain out. The fluid drains out through an area called the drainage angle. This process keeps the pressure in the eye (called intraocular pressure or IOP) stable. But if the drainage angle is not working properly, fluid builds up. The pressure inside the eye rises, damaging the optic nerve.
The optic nerve is made of more than a million tiny nerve fibers. It is like an electric cable made up of many small wires. As these nerve fibers die, you will develop blind spots in your vision. You may not notice these blind spots until most of your optic nerve fibers have died. If all of the fibers die, you will become blind.
Glaucoma examination in Bermuda
Comprehensive Eye Exam with Dilation.
The pressure of the eyes is checked using Tonometry Keep in mind even if you should have high pressures, and the optic nerve is healthy you do not have glaucoma. During a comprehensive eye exam, you will have these test performed: Pachymetry, Gonioscopy, Visual fields testing, Retinal photos, The only sure way to diagnose glaucoma is with a complete eye exam. A glaucoma screening that only checks eye pressure is not enough to find glaucoma.
During a glaucoma exam, your ophthalmologist will:
Measure your eye pressure
Inspect your eye's drainage angle
Examine your optic nerve for damage test your peripheral (side) vision
Take a picture or computer measurement of your optic nerve
Measure the thickness of your cornea.
How can glaucoma be treated?
Glaucoma is usually controlled with eyedrop medicine. Used daily, these eye drops lower eye pressure. Some do this by reducing the amount of aqueous fluid the eye makes. Others minimize pressure by helping fluid flow better through the drainage angle.
Glaucoma medications can help you keep your vision, but they may also produce side effects. Some eye drops may cause:
A stinging or itching sensation
Red eyes or red skin around the eyes
Changes in your pulse and heartbeat
Changes in your energy level
Changes in breathing (especially if you have asthma or breathing problems)
Dry mouth
Blurred vision
Eyelash growth
Changes in your eye color, the skin around your eyes or eyelid appearance.
All medications can have side effects. Some drugs can cause problems when taken with other medications. It is essential to give your doctor a list of every medicine you take regularly. Be sure to talk with your ophthalmologist if you think you may have side effects from glaucoma medicine. Never change or stop taking your glaucoma medications without talking to your ophthalmologist. If you are about to run out of your medication, ask your ophthalmologist if you should have your prescription refilled.
Laser surgery
In trabeculectomy, a flap is first created in the sclera (the white part of the eye). Then a small opening is made into the eye to release fluid from the eye.
There are two main types of laser surgery to treat glaucoma. They help aqueous drain from the eye. These procedures are usually done in the ophthalmologist's office or an outpatient surgery center.
Trabeculoplasty
This surgery is for people who have open-angle glaucoma. The eye surgeon uses a laser to make the drainage angle work better. That way fluid flows out properly, and eye pressure is reduced.
Iridotomy
This is for people who have angle-closure glaucoma. The ophthalmologist uses a laser to create a tiny hole in the iris. This hole helps fluid flow to the drainage angle.
Latest news from your eye doctor in Bermuda
We regularly share new videos and blog posts for our Bermudian patients about common eye questions and concerns. You can subscribe at the bottom of this page to receive the latest updates.
Glaucoma symptoms depend on the type of glaucoma. If you are at risk for glaucoma, it is important to have regular eye assessments so that the condition doesn't progress.
Glaucoma is an eye condition in which the eye pressure rises and damages the optic nerve. This can lead to irreversible vision loss.
Memberships and Accreditations
About the author
Leonard Teye-Botchway
Consultant Ophthalmic Physician and Surgeon |MBChB, FRCS(G), MBA, FWACS, FGCS, DCEH (Lond), Postgraduate Diploma in Cataracts and Refractive Surgery
I am Leonard Teye-Botchway and I am the Medical Director and Consultant Ophthalmologist at Bermuda International Institute of Ophthalmology in Bermuda. The joy and elation I get from seeing patients who are very happy they can see after surgery is almost unimaginable. This is what really drives me to carry on being an ophthalmologist.
We have sourced some or all of the content on this page from The American Academy of Ophthalmology, with permission.
CALL TO ASK A QUESTION OR BOOK YOUR ANNUAL EYE CHECK