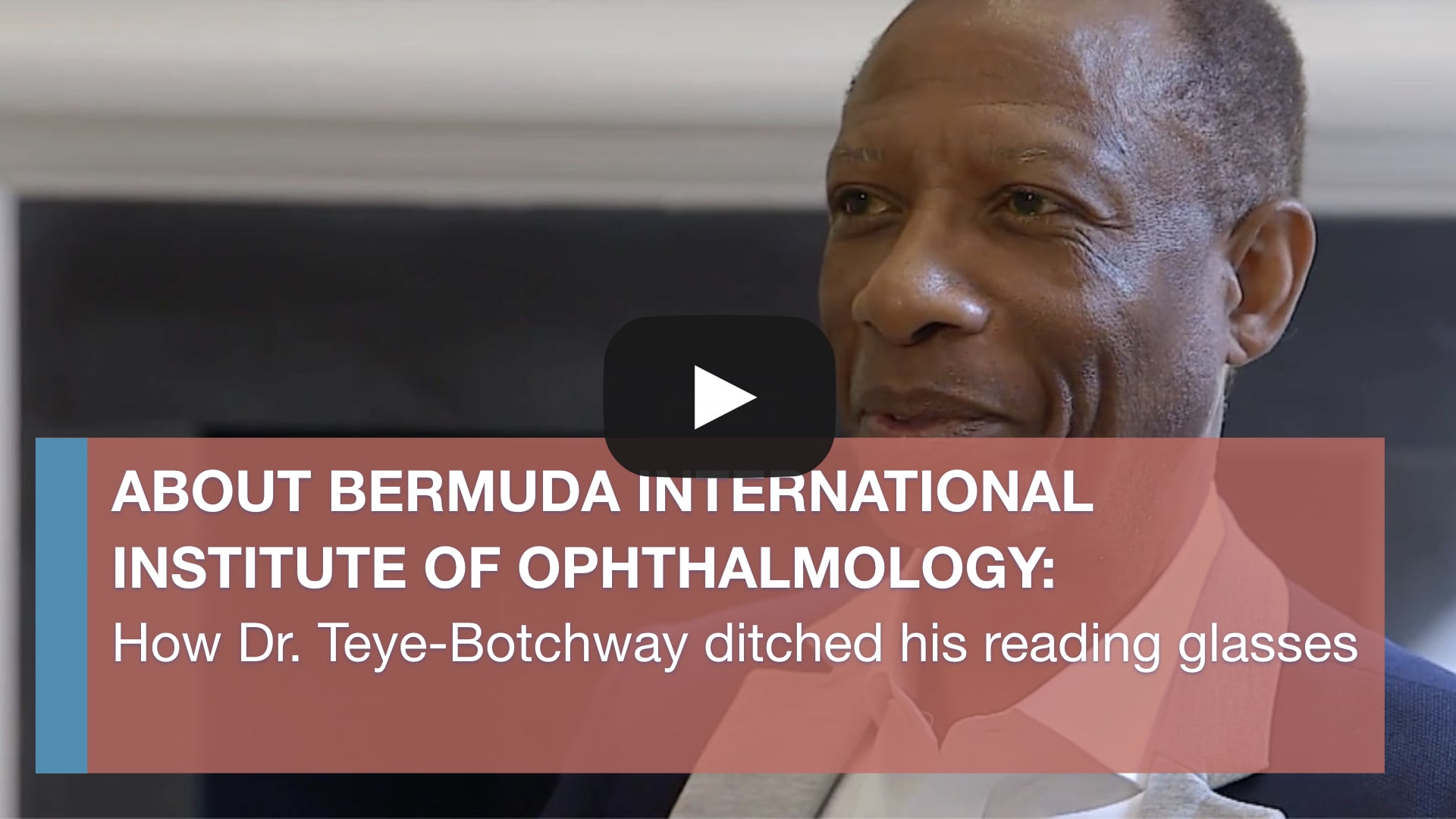 How Dr. Teye-Botchway ditched his reading glasses
Interview transcription:
We interviewed Dr. Leonard Teye-Botchway to find out about his own personal eye surgery journey and how it enabled him to get back to living the life he loves. 
Leonard Teye-Botchway: I'm an eye surgeon practising in Bermuda. I have extensive experience in ophthalmology and have performed thousands of different kinds of eye surgery.
I'm a very keen outdoor person. I use my stopwatch to time my seconds, and it got increasingly difficult for me to read the digits on my watch. That was the real trigger for me to want to do something about my presbyopia. I have very mild cataracts forming and have a condition called pseudoexfoliation, which means that my lens isn't very stable. That increases the risk of cataract surgery.
Because I don't have significant cataracts, it put me off having my lens removed and having an implant put in. I researched a bit more into it, and I was very encouraged that Dan Reinstein, who developed the procedure, had it done himself and also on his associate. That really encouraged me to make my enquiries about having the laser blended vision.
I booked an appointment at the London Vision Clinic, and I was pleased with the measurements, assessment and the counselling. I'm undergoing eye surgery myself tomorrow. It's going to be the first time that I'm having any formal surgery done on my eyes.
I'm delighted that I'm going through this experience. I'll be able to explain to my patients in a more sympathetic and empathetic way about what they're going to go through if they're going to have surgery.
Dan Reinstein: I've known Leonard for about 20 years. We met at a conference. We knew people in common, with my British training, and he'd trained here in the UK. We hit it off. He's a high-quality individual. I was excited to learn that he was interested in bringing this very advanced technology to the middle of the Atlantic.
Leonard Teye-Botchway: What I'm having tomorrow is a type of refractive laser surgery, it's called PRESBYOND or laser blended vision, and the aim is to give me good vision for both far and near with very good-quality vision and good stereo acuity.
Dan Reinstein: The process for evaluating a patient for laser blended vision or PRESBYOND to correct for reading vision is essentially the same thing as the process for Lasik, of which there have been tens of millions of procedures already performed around the world. That's a very well-known system, but in addition to that, we have special testing techniques to determine if someone is a good candidate for blended vision, which involves having a slight disparity between the eyes.
Preop testing is the standard LASIK testing. We want to look at the front and the back surface of the cornea, measure the epithelial thickness profile and to measure the prescription exceptionally accurately. We do it by several different methods so that we hone in on the exact prescription to use. Then it's just making sure that the health of the eye is good.
Prior to the procedure
Leonard Teye-Botchway: The first thing I noticed was the comfort of the room. The bed was very comfortable, and the temperature was perfect, which helped to calm me down a bit. I found Dr. Reinstein and the nurse very engaging. They talked to me every step of the way, even from little things like keeping my head straight and how to position myself, and that helped. I found it very reassuring.
Dan Reinstein: The procedure itself from the patient's perspective doesn't hurt. That's the first thing that people want to know. The patient feels practically nothing, and they're lying down and looking up, and they're hearing me walk them through the procedure one step at a time. I'm telling them exactly what they need to know just before they need to know it so that nothing surprises them, and it's just a sequence.
During the procedure
Leonard Teye-Botchway: What you see is like a kaleidoscope. There are different rings or different colours and shapes, and sometimes you see an object that's like a tunnel. You feel like you're in a tunnel with different colours.
Dan Reinstein: The patient is lying back, and they're looking at the flashing light, listening to me. They wait a few minutes, and it's over, that's it. It sounds that easy? Well, it is that easy for the patient. Most patients will sit up as soon as I've finished, and I'll say, "well, we're done," and they'll think that we just started; it is that simple. Of course, then the anaesthetic wears off. Their eyes might feel a little bit scratchy, watery or teary, but that only lasts a few hours. We recommend patients lie with their eyes closed for a few hours and we give them drops and lubricants.
Within a few hours, that sensation goes away, and then they open their eyes, and most of the fog leaves by then, and by the evening, people are reading the menu without glasses. There's a big wow effect. It's not only the best way of doing it, but it's actually safer, more accurate, reversible, adjustable, and it takes ten minutes or so and then it's healed in a few hours.
After the procedure
Leonard Teye-Botchway: When I sat up, I could see. Before, I couldn't read the biggest print on the opposite page of the near card, but I could read almost everything on the flipside where the smaller prints were just like that as soon as I sat up. That was striking, remarkable and quite amazing. Then when I was taken to a room, and the nurse put some more drops in to make sure that the eye didn't get dry. That's one thing I needed to do. I had to put lots of drops in every 30 minutes for three hours, with my eyes closed.
It's been about an hour now since I had the surgery and I don't feel like i've had eye surgery. My eyes are probably a little bit dry, but there's no discomfort at all. I can see a lot more clearly both for far and near. Let me try my phone and see if I can read anything. I can read everything without my glasses and very clearly.
Compared to before, I couldn't read anything without my glasses. I'd have to take my glasses on because the prints are too small, and it's instant, my brain has already adjusted to the better vision and switches back and forth without my even knowing that it's doing it. It's quite remarkable.
About the author
Leonard Teye-Botchway
Consultant Ophthalmic Physician and Surgeon |MBChB, FRCS(G), MBA, FWACS, FGCS, DCEH (Lond), Postgraduate Diploma in Cataracts and Refractive Surgery
I am Leonard Teye-Botchway and I am the Medical Director and Consultant Ophthalmologist at Bermuda International Institute of Ophthalmology in Bermuda. The joy and elation I get from seeing patients who are very happy they can see after surgery is almost unimaginable. This is what really drives me to carry on being an ophthalmologist.
We have sourced some or all of the content on this page from The American Academy of Ophthalmology, with permission.