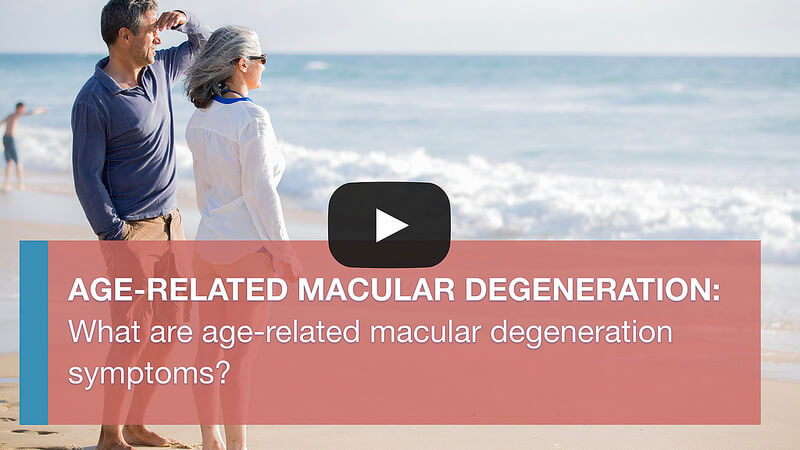 What are Age-related-macular-degeneration symptoms?
What are age-related macular degeneration symptoms? The most typical symptom is blurred central vision or distortion. In the very early stages, patients will complain about straight lines having kinks or bends in them. If you look at the edge of a door or a cupboard, it doesn't appear completely straight. It's either they see broken lines or curves or kinks. That is one of the earliest signs of macular degeneration.
When age-related macular degeneration progresses
As that progresses, it leads to more and more blurring. It's mainly central. Now the good thing about macular degeneration is that because it only affects the central part of the retina, the peripheral retina is usually left intact unless it's a secondary problem. Many times, patients can use what we call eccentric vision to see things more clearly. By turning the eye a bit to the side, they can use their unaffected retina to see things more clearly.
As time progresses, the vision gets more and more affected to the point where patients are sometimes not even able to navigate very comfortably without bumping to things.
About the author
Leonard Teye-Botchway
Consultant Ophthalmic Physician and Surgeon |MBChB, FRCS(G), MBA, FWACS, FGCS, DCEH (Lond), Postgraduate Diploma in Cataracts and Refractive Surgery
I am Leonard Teye-Botchway and I am the Medical Director and Consultant Ophthalmologist at Bermuda International Institute of Ophthalmology in Bermuda. The joy and elation I get from seeing patients who are very happy they can see after surgery is almost unimaginable. This is what really drives me to carry on being an ophthalmologist.
We have sourced some or all of the content on this page from The American Academy of Ophthalmology, with permission.